WELCOME TO ABU HAIL TECHNICAL SERVICES LLC.
WE DELIVER RESULTS
Abu Hail Technical Services LLC is UAE most experienced rope access company with over 12 years of combined experience in the industry.
Abu Hail Technical Services LLC carry out a wide range of contracts in many fields including inspection work, non-destructive crack testing, and building maintenance. With over 1000+ successful projects completed, and more than 80+ happy clients, Abu Hail Technical Services LLC pride themselves on their unblemished safety record.
What is Rope Access ?
Rope Access with IRATA Trained & Certified Team
Abu Hail Technical Services LLC delivers world class rope access solutions with a certified and experienced team of technicians. We have a highly trained and efficient, technical and professional team to ensure the delivery of top-quality rope access services to our clients.
We have a vast experience in providing access solutions to both industrial and non-industrial clients.
ROPE ACCESS FACADE SERVICES
Façade Glass Installation and Replacement
Facade Sealant Application and Replacement
Facade Refurbishment Works
Painting and Blasting MEP Rectification Works
Facade Light Installation/Replacement
Ducting Pipe Installation/Replacement
Rigging LiftinG, Steel Erection
Post Construction Cleaning
Facade Cladding Works
Facade Maintenance & Repair
ROPE ACCESS MARINE SERVICES
Navigation Lights and Cabling Rectification
Off-Shore Marine – NDT
OPITO stage 3 rigging lifting
Painting & Blasting
High Pressure Jetting Cleaning
Welding and onsite fabrication
DROPS Inspection
Confined Space Entry
Leg Inspection
Cable Pulling Installation
WELCOME TO ABU HAIL TECHNICAL SERVICES LLC.
ACCESS THE INACCESSIBLE
Abu Hail Technical Services LLC Rope access services are crucial services that involve accessing difficult-to-reach areas, especially those involving working at great heights. These services are required by enterprises for a variety of reasons, especially if they are located in one of the skyscrapers. Providing these services requires specialized techniques and equipment, and such tasks are rarely doable in-house. Hence, rope access service in UAE is often required.
Get a Quote
Contact Us
High-rise Technical
Solutions
From Rope Access to cradle/BMU manlifts, Abuhail has the full range of technical capabilities. to reach difficult to access areas of a building in a safe, efficient and with minimum interruption to the person who is using the service.
Get a Quote
Contact Us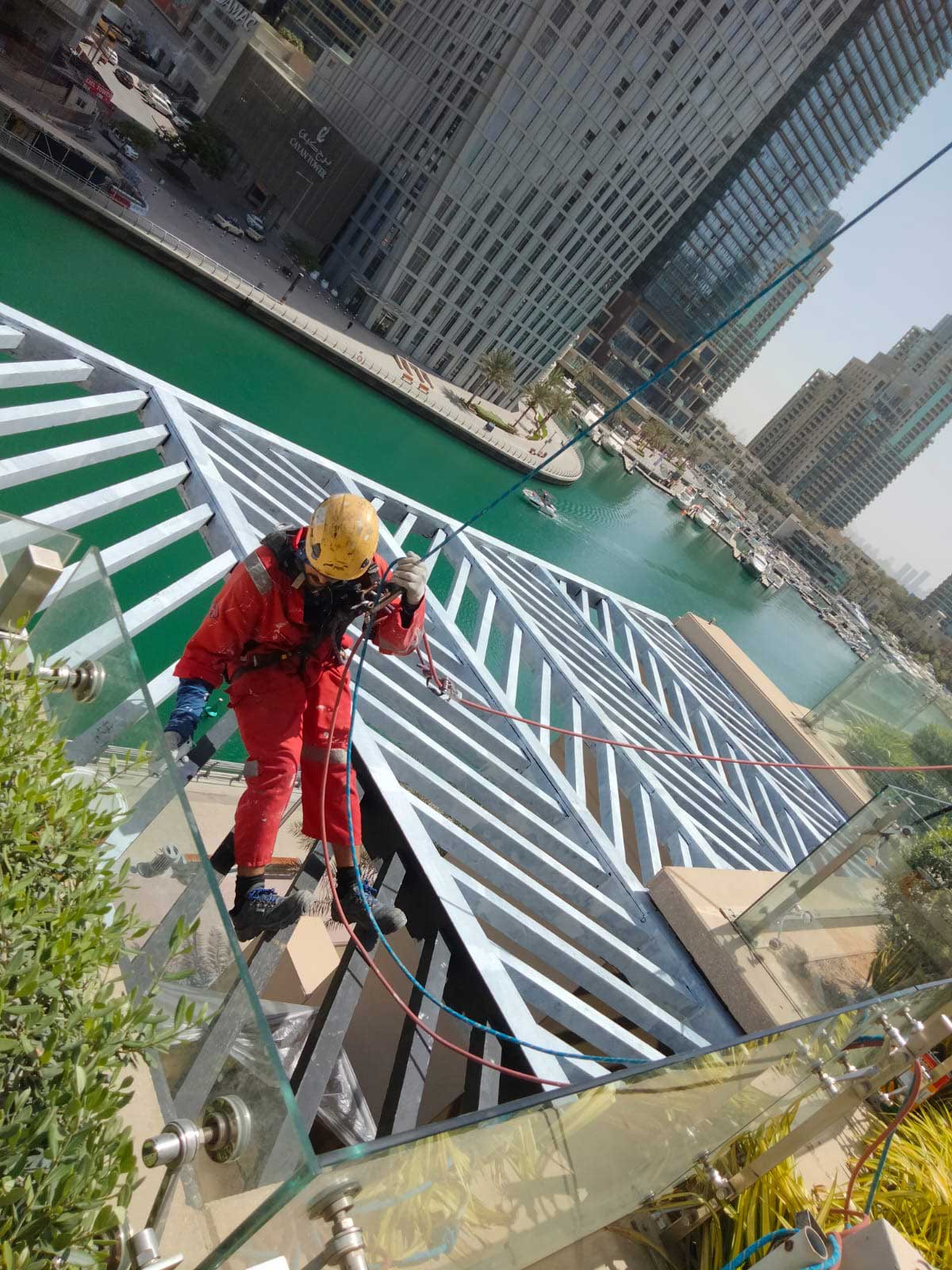 A home is where you'd like security and peace of mind. When your paint is dull it is a sign that you need to hire a professional painter. There are many signs that indicate your house needs to be painted
Abu hail provides incredibly professional glazing,painting and cleaning services. Their attention to detail and expertise make them a top choice for anyone in need of these services. Highly recommended
Thank you for the good service provided
Had my windows cleaned today got a great quote from Shahzan, The lads did an amazing job 👏 will defo use them again 😊
Amazing job!!! After reading the reviews, decided to choose this company for my building cleaning. Absolutely amazing service. Worth every penny.
The Best service ever got from Cleaning companies Happy to coordinate with such a company and team of Abu hail technical.