High-rise Technical
Solutions
From Rope Access to cradle/BMU manlifts, Abuhail has the full range of technical capabilities.
to reach difficult to access areas of a building in a safe, efficient and with minimum interruption to the person who is using the service.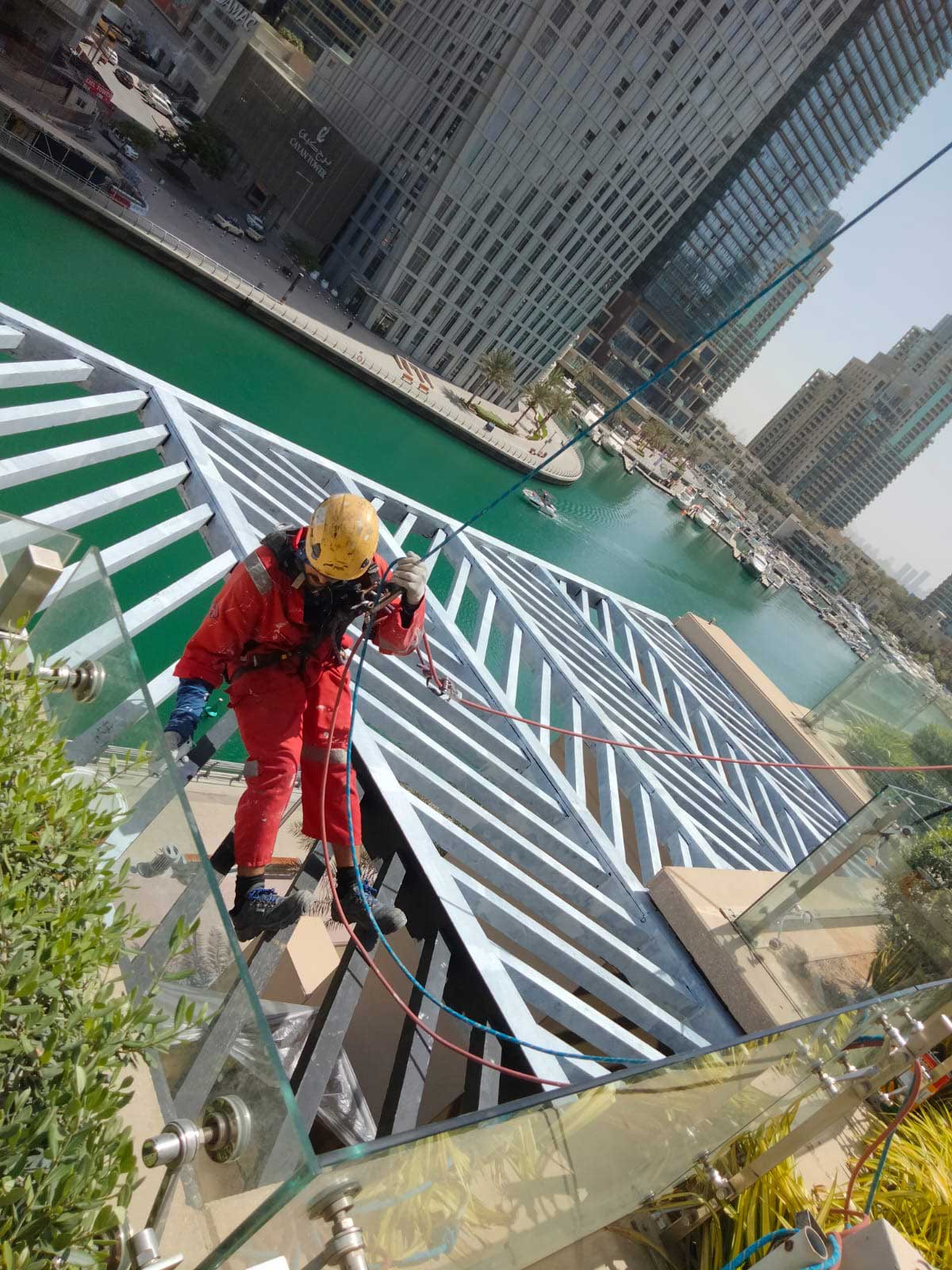 WHAT IS ROPE ACCESS?
Rope access refers to the professional use of ropes for inspections, maintenance, as well as other tasks. Ropes used for industrial use were first introduced by explorers who first make ropes to climb and cave and have since been modified to suit a variety of types of jobs.
In order to gain access to difficult areas Access to ropes is often utilized in conjunction with other methods of climbing and, of course, safety equipment. It is also utilized in difficult or risky environments, such as in tight areas, in construction areas over water, or the confined areas within buildings, allowing workers to work from a high altitude safely and effectively and avoid dangers.
The following are the subjects that are included in this article on rope access, in the event you're looking to jump:
What Is Rope Access?
Rope Access Techniques and Systems
Rope Access Equipment List
Rope Access Dubai
The main purpose of rope access is to permit workers to gain access to difficult-to-access areas that are not accessible via scaffolding, cranes, or platforms for the aerial.
A rope access technician may make use of ropes to descend, climb or traverse ropes, all while being secured by the harness, and occasionally a work station for rope access too.
Rope access was first introduced to be used for industrial tasks in the late 1980s. In the years since trade organizations such as IRATA (Industrial Rope Access Trade Association) and SPRAT (Society of Professional Rope Access Technicians) have codified the procedure and transformed it into a tried and efficient method of getting people into difficult-to-access places to perform work.
Today, there's an array of rope access-related jobs and projects that require rope access. In the field of civil For instance, in the civil sector, the most frequently used applications are maintenance, window cleaning, and assistance. In the industrial industry, the most commonly used applications are those that are not destructive (also commonly referred to as inspections).
To ensure that rope access is safe standards, rope workers typically employ a variety of redundancies to make sure they'll be secure in the event that parts of their equipment fail.
THE PROS AND CONS OF ROPE ACCESS
Pros
Accessibility. The rope-access solution can be found to access the inaccessible area regardless of whether it's at a height or in-depth.
Safety. Working at heights is generally considered to be a safe task provided it is done in accordance with IRATA guidelines.
Speed. An access rope is quickly built and removed. It is easy to set up and removed when required. It is very easy to set up and take down.
Space. When compared to other methods of accessing difficult areas from a height the rope access method is extremely compact which means it isn't a major disturbance to the work area.
Environmental concerns. Rope methods are thought to be green because they do not require the transport of heavy equipment, and they permit people to travel to areas of work without clearing or altering the land.
Cons
Perception. While the rope is usually considered safe but many businesses are uneasy about it due to the fact that they are of the opinion that it's risky.
Access. Ropes don't allow access to each and every place in which a person would have to travel for purpose of their job.
Limitations on the direction. Access systems for ropes aren't powered, so they allow only a technician to move down, but not to back up.
Maintenance work restrictions. The ropes used for maintenance limit the capacity of an individual to complete certain types of maintenance work, which makes certain kinds of intensive tasks impossible.
Rope Access Techniques and Systems
Below are some steps that rope technicians typically follow when performing their job:
Preparation. This includes assessing risks associated with a particular mission, developing the necessary preventative measures, and establishing the anchoring point and progress points (if they're not installed).
Placement. Move to and away from the operating level, before getting placed in the place in which work is to be performed.
Implementation. The work to be completed, whether it's an inspection and cleaning, maintenance, or any other task is required.
Cleaning and debriefing. Recapitulating any learnings during the trip from a health and safety point of view and taking down anchors and advancement systems (unless normal activity requires anchors to remain in the same place).
INDUSTRIAL ROPE ACCESS SYSTEMS
there are two kinds that rope access devices are available that are frequently utilized in conjunction.
The Dual Rope System
this is the system that we mentioned above, and it employs redundancy to ensure security. When using the Dual Rope System, a rope technician would possess a first rope, and an additional rope, with a second one being used to act as a backup should the primary rope is damaged. Primary and second rope systems should always be equipped with at least two secured connection points.
The Buddy System
it is the Buddy System is commonly used together with the Dual Rope System. It is the term used to describe the use of rope workers as partners to ensure that rope workers can help each other out should one get into difficulties while working at heights.
The Buddy System allows partners to help each other out, and it's Dual Rope System allows horizontal movement as well as self-rescue.
Rope Access Equipment List
there are numerous kinds of equipment that are used in rope access tasks. A lot of the equipment is specifically designed to fulfill the safety requirements for rope access and protect inspectors when working.
These are the most commonly used kinds of rope access equipment.
ASCENDERS
An ascender lets you climb ropes. This kind of hitch operates similar to a friction hitch by sliding down the rope with no weight it locks into the position when the weight is placed on it. As opposed to friction hitches, ascenders are mechanical, safer and more user-friendly.
DESCENDERS
Loads or workers are reduced through descenders, allowing them to lower them in a controlled manner. This is done through friction, exactly like ascenders do. Descanters need to include a self-braking mechanism as well as the operator's release system.
LANYARDS / ENERGY ABSORBERS
Harnesses are connected to anchors with lanyards and energy absorbers. Fall arrest systems are the most popular kind of system used in the market and are designed to decrease the force exerted on the body during the event of a fall.
HARNESSES
The types of harnesses that are used for rope access are seat harnesses as well as full-body harnesses. Full-body harnesses are typically employed in industrial or rescue applications because of the number of attachment points that they provide.
HELMETS
Helmets offer protection from falling debris as well as other heat-related dangers that can be triggered by rope access. While safety harnesses are required on any construction site but they are essential when working at high heights. It is crucial to prevent orthostatic hypotension that results from the restriction of blood flow in the event that workers are involved in an accident that causes the loss of consciousness.
ROPES
There is no rope without ropes. Apart from being sturdy ropes are also lightweight and flexible.
This isn't an exhaustive listing of all the pieces of equipment that are used for rope access. Other types include foot loops, connectors Mobile fall arrest systems, and pulleys.
Rope Access Dubai
We are Abu Hail Technical & Cleaning Services L.L.C. among the most reputable Rope Access Companies in UAE with a large client base. We provide unbeatable rope access to our cherished customers with regards to maintenance and civil works like blasting, painting, and painting; external pressure cleaning, High Rise Window Cleaning for buildings as well as Facade Glass Cleaning.
Our goals are to meet the needs of our customers by providing services in a timely manner and delivering high-quality services within budget. We have the best record in ensuring safety standards are met. We've completed all of the tasks without putting at risk the safety of our workers and are prepared to face any adverse situations.
We believe that in order to ensure the high quality of work as well as effectiveness, it is of vital importance to choose a staff member who has been working for a long time in their specific fields and who is skilled in rope access methods.
Rope Access Services we offer.
High-quality windows glass clean.
High-level exterior cleaning of buildings
High Rise Building Pressure Washing
Facade cleaning
Maintenance and Cleaning of Advertising Signboards
Bird spike installation
Rooftop pressure washing for warehouses
Skylights, high-level domes Tents, Shades, and domes Cleaning and Maintenance
High-rise facade lighting fixture installation
Facade Sealant Rectifications
Solutions for painting
The work is completed by experienced and skilled technicians.
Contact us for more details Contact us for further information.
Get Free Quote Now
Thank you for the good service provided
Had my windows cleaned today got a great quote from Shahzan, The lads did an amazing job 👏 will defo use them again 😊
Junaid Chaudary
2022-06-02
Amazing job!!! After reading the reviews, decided to choose this company for my building cleaning. Absolutely amazing service. Worth every penny.
The Best service ever got from Cleaning companies Happy to coordinate with such a company and team of Abu hail technical.